Plantar fasciitis or heel pain is one of the most common causes of foot pain.
Plantar fasciitis is brought on when the plantar fascia a thick fibrous band that originates in the heel and travels across the sole to the toes, develops micro-tearing or becomes inflamed.
The plantar fascia is an integral component of the foot. It functions as an arch stabilizer, shock absorber and aids in properly distributing body weight along the foot when you are walking.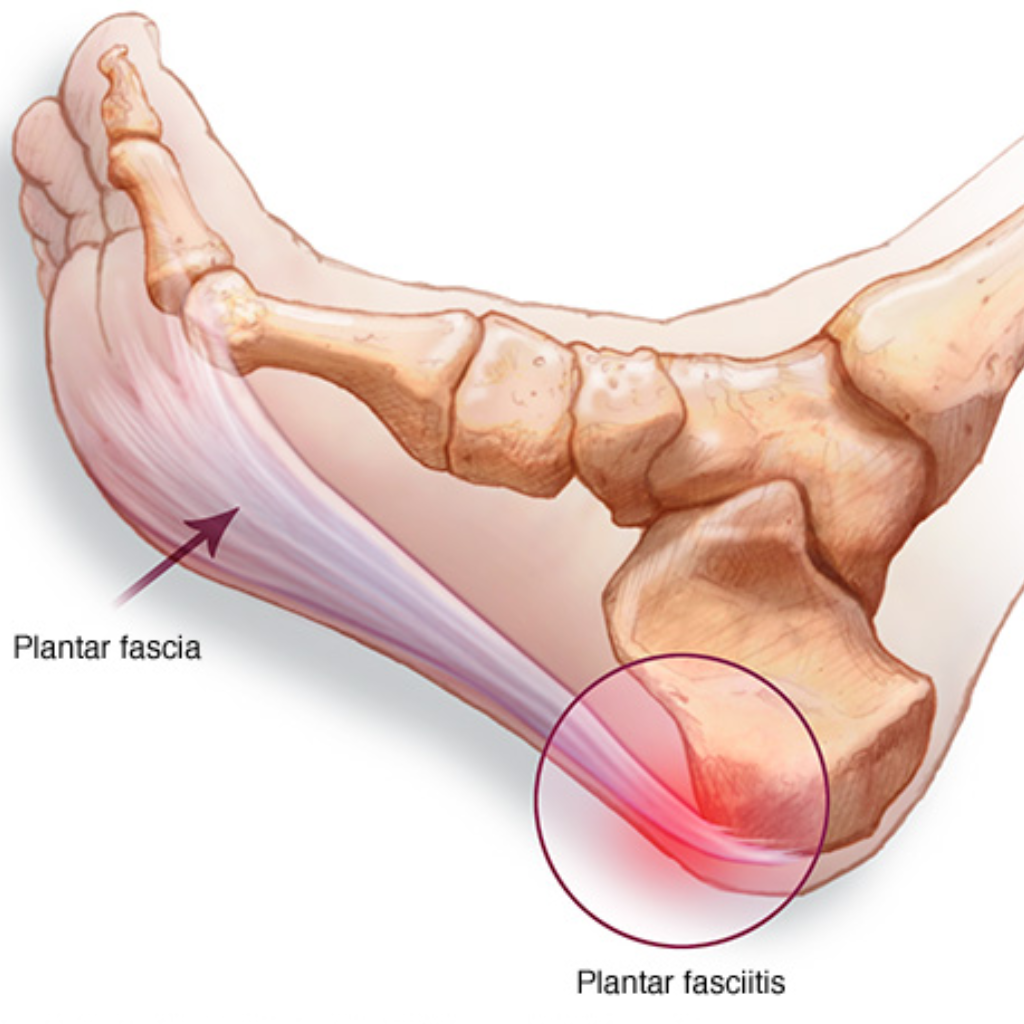 Plantar Fasciitis Symptoms
Heel pain that develops gradually over time
Heel pain that is worse with the first few steps in the morning
Heel pain that is better with movement
Heel pain that is worse after inactivity
Plantar Fasciitis Risk Factors
Muscle imbalances and compensations

Weakness in the glute (buttock) muscles and/or tension in the calf muscles can be a risk factor.

Occupation

Employment that requires walking or standing on hard floor surfaces for long periods.

Obesity

Carrying those extra kilos puts the plantar fascia under extra stretch and strain.

Activity

Plantar fasciitis can be considered an overuse injury in runners, dancers and other athletic types.
Plantar Fasciits Assessment & Treatment
At Poke Acupuncture we have a very systematic assessment and treatment approach to plantar fasciitis. Therapy begins with a thorough orthopedic assessment where muscle imbalances, weakness and compensations are identified and a treatment plan is established.
Traditional acupuncture and soft tissue therpaies are used to help reduced the pain and inflammation assoicated with plantar fasciitis. Modern acupuncture therapies are utilized to help correct any muscle imbalances and compensation that may be leading to tension and pain.
For more information or to book an appointment please contact us.
Ryan Samuels
Registered Acupuncturist & Chinese Herbalist
References
Dutton, Mark, Dutton's Orthopaedic Examination, Evaluation and Intervention (McGraw-Hill Companies, 3rd ed, 2012)
McDonald J, Janz S. The Acupuncture Evidence Project: A Comparative Literature Review (Revised edition). © Australian Acupuncture and Chinese Medicine Association Ltd, 2017: http://www.acupuncture.org.au.
The American Journal of Chinese Medicine, An International Journal of Comparative Medicine East and West. Efficacy of Electro-Acupuncture in Chronic Plantar Fasciitis: A Randomized Controlled Trial. Wipoo Kumnerddee and Nitsara Pattapong. Volume 40, Issue 06, 2012