De Quervain's syndrome is a painful condition that affects the tendons at the base of the thumb. The pain usually comes on gradually and gets ignored until simple, everyday tasks like taking lids off jars, gardening, or holding a child are very painful.
The pain can be very sharp and sudden and there may be a "stuck" feeling at the base of the thumb during movement. Some patients do present with swelling in the wrist at the base of the thumb.
De Quervain's syndrome is often considered an 'overuse injury of the thumb', hence the reason it often affects people that use their hands to grip and grasp objects on a repetitive basis, such as: carpenters, mothers with small children, and painters. However, it can also be aggravated by arthritis of the thumb.
When in good health, the tendons at the base of the thumb should glide smoothly through a tube called a tendon sheath. Overuse from constant gripping and squeezing objects and the consequent repetitive sliding of the tendon through the sheath can cause the sheath itself to become irritated and swollen.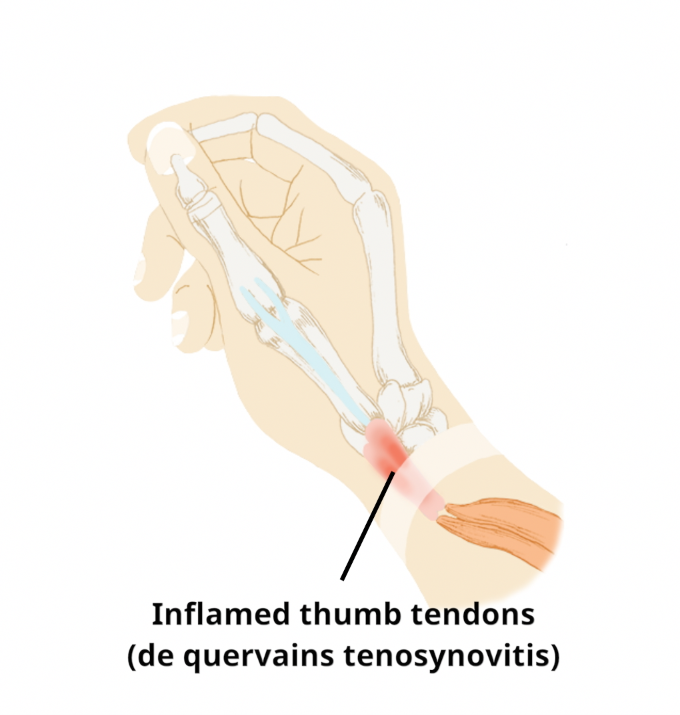 This irritation of the tendon sheath can cause pain and make it impossible to complete simple tasks like opening a jar, picking up a child or using tools like a hammer. For some people, even touching or bumping the tendon can cause excruciating pain.
Some of the therapies that we use at Poke Acupuncture when working with patients suffering from De Quervain's syndrome include: Acupuncture, Chinese herbal medicines, kinesio taping and manual therapies such as gua sha and massage therapy.
For more information or to book session please contact us.
Ryan Samuels
Registered Acupuncturist & Herbalist
References
Legge, David, Close To The Bone: The treatment of painful musculoskeletal disorders with acupuncture and other forms of Chinese medicine (Sydney college press, 3rd ed, 2011